Well, it really was amazing today. Our Council seemed like the real deal:  the students spoke very well; our co-Mayors managed the flow of debate expertly; the rebuttals were pertinent and precise!  The real Mayor, with whom we had an excellent visit with later, would have been very impressed.  But enough from me (I'm going home to bed!).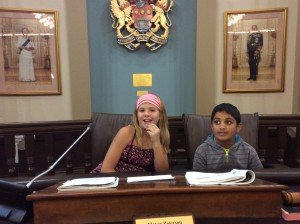 By Trinity
I got to be the mayor for the week and we got to do a debate about banning plastic water bottles. Some people were against it and some people agreed. The vote was 2 on the yay side and 9 people where on the nay side there were 2 not sure what side to be on. It was fun spending time at city hall and fun to be a part of  some thing that most people don't get to do.It was a bit scary for the first time and i was a bit nervous because it was my first time doing this.  And i was in a big room with lots of people.  We also got  interviewed by someone from the news news.We got to meet the real mayor!
---
By Haadi
I was also the mayor for the week and we got to be in the council chamber it was pretty big.  We also got interviewed by a old man who asked us if we wanted to be a mayor when we got older.  And the man who was interviewing us wants to know if the people who were in the council chamber voted to be mayor .  There  were a lot of reasons that we should not ban water bottles and reasons to ban water  bottles.
Update:
Here's the link to the CKWS news report:  http://www.ckwstv.com/2016/10/21/mock-council-sits-in-during-local-government-week/