Hello!  Busy time of year (to say the least).  But there are two things happening this weekend that are directly related to our class, so I am sharing them for your consideration!

Bioblitz 2:  The Fossil Edition
This Saturday, June 15th, there is a Bioblitz at the site of the Lennox Generating Station, out near Bath.  Students who enjoyed our time at Wintergreen two weeks ago may enjoy another opportunity to pond dip or learn about bugs, bats and other critters.
But the main reason I know about this is because of fossils!   When we went to Miller Museum a few weeks back, I met with Professor Noel James,head of the Geology Department.  I'd been asking him where we might go for a rock field trip and he said, "There's this great fossil site at the generating station we take the Queen's students."  He kindly helped connect me with folks there, but in the end it was going to be complicated and expensive to do it.
But Professor James will be at Bioblitz!  He'll do a guided walk to check out this particularly awesome fossil site, normally closed off to the public!   Noel's walk/talk starts at 9:00 a.m. but there is a whole day of nature stuff!  Here is a link to the full schedule.
https://kingstonfieldnaturalists.org/wp-content/uploads/2019/05/PROGRAM-BioBlitz-2019.pdf
The Lennox Generating Station is here:
https://www.google.com/maps/place/Lennox+Generation+Station+(OPG)/@44.1442379,-76.865716,14z/data=!4m5!3m4!1s0x89d7dd9542eb3355:0x9c623529c91d978f!8m2!3d44.1442375!4d-76.8482065
Saturday afternoon and evening:  "Mine" at the Isabel Bader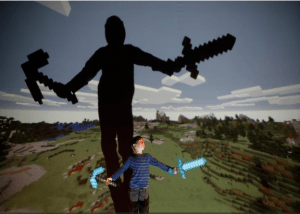 And our own Wylder is in a show!  A rather special show, based upon the relationship between a parent and a child who plays Minecraft.  This has come up very quickly–he only auditioned in the last few weeks and rehearsals start tonight!  Check it out: the Friday show is sold out but as of this morning there were tickets for both Saturday shows.  They are going fast!
https://www.queensu.ca/theisabel/performances/festival-of-live-digital-art/fesitval-of-digital-art/mine