I enjoyed the day.  Not necessarily more than others, but basically it was a fun day.  Here are some clues as to why I at least thought so.  Your child can explain (and conceivably disagree, though I had few complaints).
First, the egg picture:
Then, we worked on our Norse Mythology comic books, to be finished by Monday.  (ie., we're out of class time for these, so some may be coming home to finish up over the weekend).  These are teasers; you'll have to come in to see the finished products!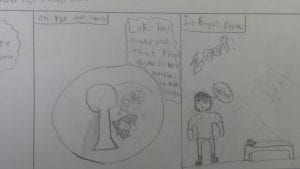 Also we worked on Fractions, which are going to be a theme this term: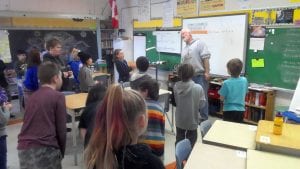 And later, my good friend Mr. Mackay visited again, to do some music and movement stuff.
In the afternoon, the science of Light!
And we ended our day finishing up our Science diagrams and listening to our new Read Aloud: