Quote of the day:
"When I went to mark the little circle on the ballot, my legs were shaking from excitement!"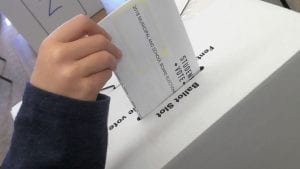 No point in me saying much more than that.  I am so proud of how maturely and seriously the students approached this whole process this week and today.   A Municipal election is so much more relevant for the kids in some ways, but is also so complicated!   Good for them!
And not only were we voting, we were running the vote for all the classes participating.  So: checking voter lists ("Name please?") scrutinizing ballots, counting and tallying votes.   Official name tags!
The Student Vote results are published following the release of the official election results.  So we'll have a look at all of it next week.