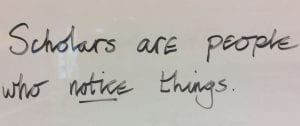 Here is the blog!  Welcome!  Hit the "Follow" button and then you'll get an email notification whenever we post something new.
What a great first week we had!  On the off chance you had a response of "Nothing" to your question "What did you you do at school today?" that's partly what this blog thing is about.  Please feel free to comment below so I know it is working and you are getting notifications about posts.  This can be a place for sharing your questions.   I–and eventually the kids, if I can figure out how–will share bits about what we're up to, and this should spark conversation at home.
Your conversations at home are highly useful to our learning!  Why?  They allow for reflection on and reinforcement of concepts we've discussed in class.  They often generate great questions that students bring back to school.  And sometimes they are an opportunity for you to communicate to me when your child is struggling with stuff that I'm not aware of.
This year, we'll explore Canada's regions, we'll explore some local issues through the municipal election, and we'll go on to look at early civilizations and how they saw their world.  We'll play ukuleles (we already have, a little).  This term in Science, we'll explore habitats and adaptation.  We'll do lots of mathematics and we'll write and read every day!
We've already begun a read-aloud book, Because of Winn Dixie, one of my favourites.  I strongly, strongly encourage you to continue reading with your children.  Whether your child loves or struggles with reading, being read aloud to is a wonderful way to gain a love of language, and it's a great, non-screen way to go to sleep!  They may seem like "big" kids, but they still love this!
The title of this blog is "Who in the World?", which comes from a quote from Alice in Wonderland.  (Hey, that would make a good read-aloud!).   Wondering "Who in the world am I?" seems to me such a central question for children at this age who begin to leave the world of childhood and take their first steps into an awareness of the adult realm.
This week, we're creating a base for building a community of learners, a base that has clearly been established by previous teachers.  We began to explore how difference can be supported and celebrated in our community of learners.    Through math, we saw that a simple question–How many?–will be solved mentally in a variety of ways by different people.  We also did several activities to show how each of us may find different things challenging.  In case your child didn't bring this home to share, here's a text we read together to simulate an experience of dyslexia.  Recognizing that our different learning styles and challenges can affect our responses and our needs will allow us to better understand and support each other.   It's a start.
That's all for now.  Looking forward to a fine year ahead of "noticing" things, and seeing where that noticing takes us!