Right before school ended last year Melissa Hudson, a long-standing leader in our Parent Council, asked me, "What do you think about asking the Parent Council for funding for ukuleles?"  We'd discussed ukuleles before–I'd started badly playing one when her son Finn was in my class way back in Grade One (some of your children remember those days!)–and their potential for introducing instrumental music for lots of kids.
In September, I got cooking on a grant application for partial funding from the Limestone Learning Foundation.  But the Parent Council decided they were willing to "not wait" and said they'd front the money in the hopeful confidence that the LLF just couldn't turn us down.  This was bold–those are hard-won dollars!–but in the end it has paid off.  Local heroes Arden's Music on Bath gave us a deal and dropped the instruments off a few weeks ago, and last week we got word that our grant had been approved!  (We go this Thursday to receive it).  The Parent Council now shares the gift with the LLF and will therefore have those funds to put to other uses.  Thanks to both organizations for the work they do to support outside-the-box projects for our students.
Here is the day they arrived!  Look, we immediately found ourselves doing math.  I couldn't help but ask, "What shape are these boxes?"  I learned a lot about what these kids know (which is a lot) and what they weren't sure about (which is some) about two-dimensional geometry.
This slideshow requires JavaScript.
So what is this about?  Well, I do have a strong faith that making music–and in particular, making music together–is good for our souls and our brains and our communities in lots of ways.  Spend 5 minutes searching the Internet and you will find compelling studies on how learning and playing music is good for us.
Full disclosure:  I am not a music teacher, or even a musician particularly.  As a teacher, this seems to be where I am most comfortable:  about three steps ahead of the students in the learning process.
We did start playing, messing about, learning a couple of simple one-finger chords and exploring different strumming patterns.  My intention is to focus on chords and strumming, rather than picking–partly because I am not good at picking, and partly because it is easier to use strumming to accompany ourselves singing!  And singing along to our playing is also central for me.
And there's also maths.  We spent almost two weeks digging into the following open task:  Design a storage system for the ukuleles.  That was just about all the instruction I gave them, other than a framework for recording and presenting their design, with an emphasis on representing and communicating their thinking.  And this was not a contest:  none of the designs might be chosen or it might be a combination of several designs.  The process was the point.
Lots of awesome things emerged through this process.  First, so much imagination!  But I was very impressed with how seriously the students took the task, and how frugal and sensible they were.  I thought I might get gold-plated flying Cadillac designs, or remote controlled robotic delivery systems–and that would have been O.K. with me.  But because I asked them to figure out the cost, they had to go to the Internet and find the information and they naturally seemed to impose a requirement I had not that the costs be kept to a minimum.
Also, we discovered the need to learn to work with inches, still the building standard in Canada. This required quite a lot of new thinking, and may have accidentally improved our 12 times tables.  Check this out:
This slideshow requires JavaScript.
We have I think a fabulous design solution, that combines the portability element that many groups included, as well as using existing materials–thus keeping cost and environmental impact low.  I hope to put it together in the next week or so.
Afterward, I gave the students a survey about the task, about 8 questions.  I was curious to know if they thought this was math, and which aspects of the project they thought was math.  I found the results interesting: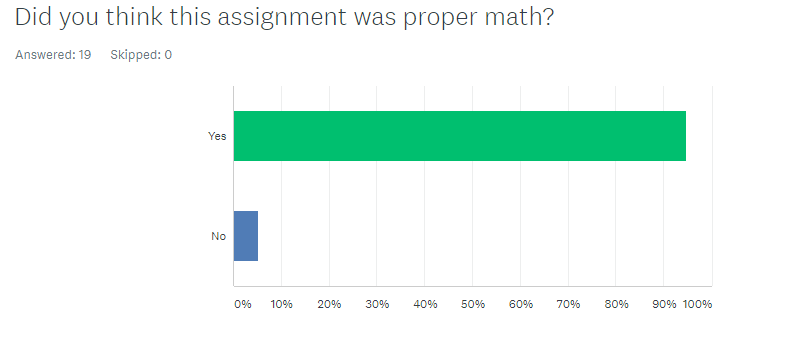 O.K., but check this out.  I thought all of these things could contain math, but it was very interesting for me to see which activities very few students thought were math.  At first glance, it speaks to the kinds of math experiences we typically give students, and potentially the emphasis on right answers and working by yourself.  We had a rich conversation about these results.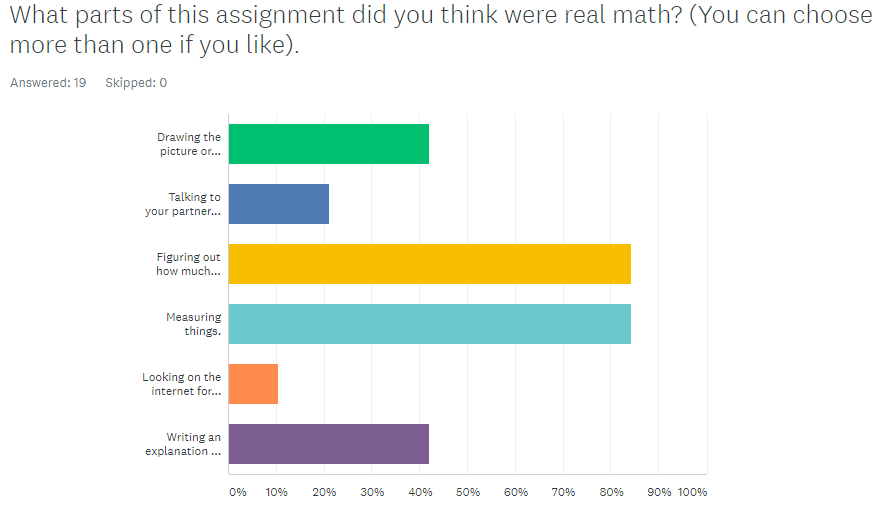 The mostly good news:
"Mostly" good news because at least someone didn't enjoy it all that much, and also because it pushes me to come up with more stuff like this.
"And so…?  Are you actually playing the darn things?" I hear you ask.  
Well, yes–yes, we are.  Last Friday, with three or four chords under our belts, we nailed "Singing in the Rain"–we were all delighted to discover that we were playing, changing between chords, and singing all at the same time (and in time)!  "Let's play it again!"  And then:  "Let's go and get Mrs. Sartor and show her."  I explained that Mrs. Sartor was in a Big Meeting with a whole bunch of Principals and Other Important People and we couldn't disturb them.  "Though it is tempting…" I confessed.  Azylynn shouted "Let's DO IT!" and who am I (or any of us) to stand in the way of such enthusiasm?
And so, to close, I give you the first Centennial Ukulele Flash Mob (preceded by some guys doing percussion on the roof):
Not bad about an hour after our first run-through.  Onward!