All term, we have explored the relationship between the First Peoples of Canada and the Europeans who founded New France, the fur trade and ultimately Upper and Lower Canada.  A challenge for me is to avoid representing our Indigenous People as "historical"–ensuring that we understand they are an enduring part of our modern society, without having to badly teach another 200 hundred years of complex history.  The Pow Wow was an excellent opportunity to see ancient culture in modern context.  Another is The Arts.  (See "A Tribe Called Red" two posts back).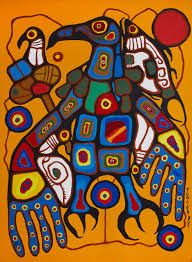 We haven't had so much time for this, but a little while ago we looked at Norval Morriseau.  To balance an appreciation for his incredible art while also avoiding just "copying", I spoke about Morriseau's inspiration and process, and how he painted quickly, almost in a trance, often working on multiple paintings at one time.  Then I put on some soothing naturey music and said, Go!  Paint!!  As usual, it was pretty interesting to see them get into it and the results were predictably rough, but energetic.  Here we were interested in process over product.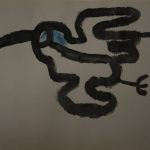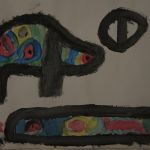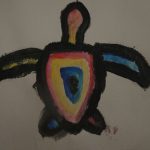 Today, we were introduced to the amazing and original work of Alex Janvier, a Dene/Saulteaux painter from Northern Alberta.  (In March, I went to a huge exhibition of Janvier's work, which I was totally unfamiliar with, at the National Gallery of Canada in Ottawa).  We watched an interview with him, and then explored images of his paintings, which are abstract and unique.  We talked about his experience in Residential School from the age of 8.  We talked about his discovery of art, and his influence by European artists such as Paul Klee and Kandinsky.
I put out watercolour paper, compasses, rulers, crayons, pencil crayons, and paint.  Then, I put on woodsy music and off we they went.  This time, process was important, but not speed–a balance between free-flowing line and careful application of shape and colour.  I don't know that the students are really channeling Janvier or nature doing this, but the results were original and cool.  Good way to spend a bunch of our last Friday together.
This slideshow requires JavaScript.