Hello folks at Home:
Before the March Break, we began individual word study projects that ended up taking more time than expected.  Some students did some work on these over the break and others have finished them in class over the last couple of days.  But we need to move on!  For those that are almost done, they may be bringing it home to finish up and make beautiful.  Help them in any way you like, get them to explain their work and take you through the process of investigation.  Each student chose their word based on their own question or curiosity.
The projects can be simple and neat: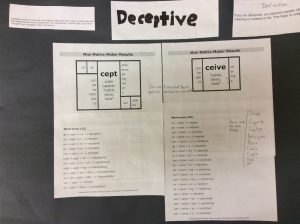 Or a little fancier:
…but should have the same basic elements.  Here are the guidelines:
Checklist for Word Project:
Remember, our goal is now to teach everything we can to people who don't know about your word or who know little of orthography.  You are the expert!
Must have:
Matrix (this may be of your starting word or of the base in that word)
List of word sums
Definition (what does the word mean?)
Root and meaning
Short paragraph about the story of the word or its relatives
Large, beautiful title
May have:
An oval enclosing other relatives with the same root
A list of other relatives that share the same root
A second matrix
A short paragraph describing other interesting things you discovered about the word
Any questions you still have about this word or family
Images, quotes, something to give your project some flash
Any questions you still have about this word or family